Guardian Childcare & Education Forde
Our centre has been recognised as 'Exceeding' the National Quality Standard. This is the highest rating you can receive from a regulatory authority assessment and we are proud to deliver an exceptional service to the children and families who attend our centre.
Guardian Childcare & Education Forde is one of six incredible Centres in the Canberra region and is rated as exceeding in the National Quality Standard. The Centre boasts a range of exciting, resource-rich environments including a community library, community pantry, and upcycled furniture and loose parts which the children are encouraged to explore in their own unique way.
Read More
Read more information about the centre
Rhythm of The Day
With endless possibilities, there's never a dull moment at Guardian and no two days are the same. Here's what a day at Guardian might look like. Please note, this will vary depending on centre opening hours.
From 7:00am

Handover time with children, families and our friendly Educators. There's a chance to share what's important for the day and any news from home.

From 7:00am

Breakfast time where families are welcome to stay and enjoy breakfast with the children.

Morning

An opportunity to play and discover with open-plan play in family groups and multi-age groupings.

Morning

Planned experiences. This is where the Guardian difference comes to life. Alongside our Educators your child's exploration leads to learnings in numeracy, literacy, language, critical thinking, problem solving, leadership, social skills, technology, creative arts and much more.

Morning tea

An opportunity for children to come together for a healthy snack, often they help prepare their food alongside our carers and cook.

Mid-morning

Individually tailored to your child's needs and curiosity the planned experiences continue, this includes both indoor and outdoor programs.

Lunch

Another nutritious meal expertly prepared by our cook. Families are invited to join the children for meals and excursions if they wish.

Afternoon

If your child wants to, or needs to sleep, it's time to rest and recharge. For children who don't need to rest the planned experiences continue, in most cases outdoors.

Afternoon tea

Another chance for the children to come together and re-fuel in small groups or with siblings. There is also an opportunity to rest or play together and reflect on the day.

Pick-up

As you arrive to pick up your child, there's a chance to speak with our Educators and share news about the day. Our Storypark App also allows you to stay in touch 24/7 wherever you are.

End of day

Your child is encouraged to grab a light snack before they leave the centre. We're mindful of how routines vary, throughout the day if we notice your child looking tired food will be provided.
Helpful Information
Opening Hours
Open 7:00am to 6:00pm
Monday to Friday
Good to Know - What to Bring
What we Provide
Hats
Sunscreen
Four nutritionally balanced meals including: Breakfast, Lunch, Morning and Afternoon tea
Nappies
Bibs
Bedding
Formula - S26
What to Bring
Soft toy or comfort blanket for nap time
Spare change of clothing
Water bottle
Our Educators
Our team of Educators are committed and passionate about ensuring your child will be safe, nurtured and cared for every day. At Guardian, children are encouraged to engage in interest-led play that creates learning and meaningful experiences.
Our Educators seek to optimise diverse learning opportunities and implement the Curriculum as framed by the Early Years Learning Framework.
You and Your Child
All Guardian Centres provide a Centre-to-Family communication platform so families can maintain contact with their children's experiences through photos, stories and learning outcomes.
Our Centres use Storypark and each family is provided with a secure login to access on their computers, mobiles or apps.
Learn More About Our Centre
Our Educators and early childhood teachers, implement innovative educational programs with focus on: developing strong healthy relationships, learning about the natural world and developing agency and independence. The programs are specifically designed to cater for the individual needs of each child attending the centre.
We particularly value the role of the families as the most important carer in the child's life. We work closely with our families and encourage their involvement in their child's education and care
Our centre's children, families and educators are from diverse and multi-cultural backgrounds and together we embrace each other's unique differences and use this special mix of people to teach and learn with spirit, fun and laughter each and every day. The centre has a committed team of Educators and early childhood teachers who work together to plan a program which captures each child's interests in a meaningful way.
Guardian Childcare & Education Forde is spacious both inside and out offering an abundance of learning tools in six large learning spaces and a sizeable well shaded yard. We have two nursery spaces which cater for children aged six weeks to two years. Our team of Educators, including an early childhood teacher, ensure that our youngest children have access to safe, nurturing spaces and can develop strong bonds with Educators in a calm and relaxed environment. These strong bonds are essential to children's learning and development.
Our two toddler rooms cater for children aged two to three years. We offer children, safe spaces for them to develop confidence in their learning and build strong relationships with both peers and educators. Through the development of these skills, it will help children throughout their life in developing and maintaining healthy relationships.
Our two large preschool rooms offer children the opportunity to advance their learning, explore and experiment with the world around them. Our dedicated team of an early childhood teacher and Educators strive to provide dynamic learning environments that constantly challenge the children to rethink and re-imagine the possibilities that are open to them. We incorporate Academic, self-help and social preparation into our Preschool program to help children prepare for their next learning journey at Primary school.
Reviews from Google  (11)
A

Angela Thomas

- 2 years ago



E

Elysha Ploegmakers

- 3 years ago



Great daycare, my daughter was immediately comfortable here and always happy when I picked her up! Great range of learning environments and outdoor play. The educators here are fantastic and ... Read More

D

Damien Gibbons

- 3 years ago



Both our children have attended Guardian Early Learning at Forde and have loved the friends they have made and the wonderful educators who make the place feel a little like ... Read More

J

Jac K

- 4 years ago



My child has been attending this centre for 12 months now. The management team are really responsive in working with families to make sure they are meeting the needs of ... Read More

M

Melita Caulfield

- 4 years ago



We loved our time at Guardian Forde. Every single educator is passionate about early learning, dedicated, professional and genuinely caring. The management team were responsive, knowledgeable and went the extra ... Read More

I

Iris Lisle

- 4 years ago



Both my children have been so happy at the Forde Guardian Early Learning Centre. It makes a massive difference when the staff are dedicated and are of high-quality. They strive ... Read More

S

Sam Venables

- 4 years ago



We've had a great experience at this centre. The educators provided excellent support during orientation and our first few weeks and went out of their way to settle my little ... Read More

M

Mónica Monroy

- 4 years ago



D

Danielle Ward

- 4 years ago



The care my son receives at Guardian Early Learning Forde is excellent. His transition to childcare was a challenge for him as he had never been in care before, but ... Read More

A

Ash Bellingham

- 5 years ago



J

Jasmeet Narula

- 4 years ago



My daughter has been visiting the Guardian Forde Centre since she was 8 months old and is in now in the pre-school room. The carers of all the rooms are ... Read More
Begin the Adventure at Guardian
To explore the centre, chat with our team of Educators and learn more about our high-quality curriculum, book a tour now.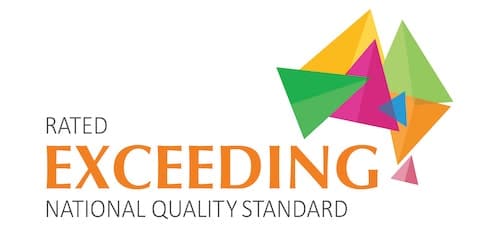 Our centre has been recognised as 'Exceeding' the National Quality Standard. This is the highest rating you can receive from a regulatory authority assessment and we are proud to deliver an exceptional service to the children and families who attend our centre.
Welcome to our centre
Ashleigh Bellingham
Centre Manager