Guardian Childcare & Education Gladesville
(Formerly Acre Woods)
Our centre has been recognised as 'Exceeding' the National Quality Standard. This is the highest rating you can receive from a regulatory authority assessment and we are proud to deliver an exceptional service to the children and families who attend our centre.
Guardian Childcare & Education Gladesville has been rated as Exceeding the National Quality Standards for childcare. Located near both Victoria Road and Ryde Aquatic Centre, our convenient location means you can spend less time commuting between home and work and enjoy more quality time with your child, hearing about all the exciting things that they've learned with us throughout the day.
Read More
Read more information about the centre
Rhythm of The Day
With endless possibilities, there's never a dull moment at Guardian and no two days are the same. Here's what a day at Guardian might look like. Please note, this will vary depending on centre opening hours.
From 7:00am

Handover time with children, families and our friendly Educators. There's a chance to share what's important for the day and any news from home.

From 7:00am

Breakfast time where families are welcome to stay and enjoy breakfast with the children.

Morning

An opportunity to play and discover with open-plan play in family groups and multi-age groupings.

Morning

Planned experiences. This is where the Guardian difference comes to life. Alongside our Educators your child's exploration leads to learnings in numeracy, literacy, language, critical thinking, problem solving, leadership, social skills, technology, creative arts and much more.

Morning tea

An opportunity for children to come together for a healthy snack, often they help prepare their food alongside our carers and cook.

Mid-morning

Individually tailored to your child's needs and curiosity the planned experiences continue, this includes both indoor and outdoor programs.

Lunch

Another nutritious meal expertly prepared by our cook. Families are invited to join the children for meals and excursions if they wish.

Afternoon

If your child wants to, or needs to sleep, it's time to rest and recharge. For children who don't need to rest the planned experiences continue, in most cases outdoors.

Afternoon tea

Another chance for the children to come together and re-fuel in small groups. There is also an opportunity to rest or play together and reflect on the day.

Pick-up

As you arrive to pick up your child, there's a chance to speak with our Educators and share news about the day. Our Storypark App also allows you to stay in touch 24/7 wherever you are.

End of day

Your child is encouraged to grab dinner before they leave the centre. We're mindful of how routines vary, throughout the day if we notice your child looking tired food will be provided.
Helpful Information
Opening Hours
Open 7:00am to 7:00pm
Monday to Friday
Good to Know - What to Bring
What we Provide
Nappies
Bed linen
All meals
Music
What to Bring
Soft toy or comfort blanket for nap time
Spare change of clothing
Water bottle
Our Educators
Our team of Educators are committed and passionate about ensuring your child will be safe, nurtured and cared for every day. At Guardian, children are encouraged to engage in interest-led play that creates learning and meaningful experiences.
Our Educators seek to optimise diverse learning opportunities and implement the Curriculum as framed by the Early Years Learning Framework.
You and Your Child
All Guardian Centres provide a Centre-to-Family communication platform so families can maintain contact with their children's experiences through photos, stories and learning outcomes.
Our Centres use Storypark and each family is provided with a secure login to access on their computers, mobiles or apps.
More about Guardian Gladesville
Guardian's wonderful teaching team at our Gladesville kindergarten and early learning centre facilitate varied, fun and interesting learning experiences tailored to each individual child. Many of our families and educators are from the local area which creates a strong feeling of community and belonging for everyone at the centre. We welcome you to come and meet our passionate team of educators and to experience our beautiful learning environments for yourself.
Our childcare and early learning programs offer so many benefits for families, including: 
Preschool Program: 

We help prepare your child for Primary School with our leading curriculum delivered by Teachers with specialist early childhood university degrees.

 

Partnership with Families: 

Your peace of mind is important to us, so we work with you and your child every step of the way.

 

Community connections. 

Regular excursions to explore the local area, as well as a 'home-away-from-home' approach to care.

 

Wellbeing and nutrition.

 Nutritionally balanced, seasonal meals and snacks prepared by a dedicated on-site chef, as well as regular cooking classes for the children.

 

Provide real-world inspired environments. 

Our Centres inspire curiosity, foster creativity and support discovery with a variety of sensory-rich and sustainable spaces designed for early learning that encourage your child to think, question and do amazing things.

 

 
We know it's a big decision to make about who will care for your child, but we aim to make it an easy one by providing a home-away-from-home at Gladesville, where children learn and feel safe to explore in a variety of settings.  
Our world-class curriculum is delivered by qualified teachers through exciting and engaging play-based experiences, including our leading Preschool Program for our older children. We combine this with the highest quality care, and communicate it all back to you so you can see how your child is growing and developing every day.  
Guardian Gladesville has rooms and Educators dedicated to each age group: Baby, Toddler and Preschool/Kindergarten. Our enrolment options provide long day care hours to support families, combining the security of ongoing bookings with the flexibility to access casual care days when needed (if spaces are available in your room).  
Our close partnership with families allows us to offer a range of additional benefits to the learning and childcare experience for the children in our Centres. We pride ourselves on the support we offer families and want to help make it a little easier to balance all those daily commitments, through initiatives such as:  
Designated drop off and pick up zones to assist with those busy mornings and afternoons.

 

Casual care days where possible to help you manage the unpredictable nature of work life and home life.  

 

Assisting you with government subsidies and entitlements to help you make the most of the 

financial support which may be available

. 

 

Our family communication app 

StoryPark

 to keep you informed throughout the day with photos, videos and updates about your child 

 

We hold parent and educator sessions to keep you informed of your child's individual progress. 

 

Providing your child with unexpected benefits such as exposure to a range of cultures and languages via our diverse and multi-cultural educator mix.  

 
Each Guardian childcare and early learning Centre is as unique as the children within it. However, creating community connections is something we're incredibly passionate about at Guardian Gladesville. 
Areas that this Centre services
Guardian Gladesville services a number of local areas, including: Russell Lea, Chiswick, Huntleys Point, Five Dock, Wareemba and Abbotsford. 
Reviews from Google  (20)
S

Summa Wilby

- 2 years ago



R

Rachel Louise

- 2 years ago



K

Kalpana Jadhav

- 3 years ago



My 1 year old toddler has been a part of Guardian at Gladesville for the past 4 months and I marvel at the exponential growth phase she is going through ... Read More

P

Patricia Holloway

- 3 years ago



Highly recommend Acre Woods Gladesville. Nurturing and caring childcare facility with excellent, updated outdoor/indoor play spaces. Delicious meals, including dinner, prepared by onsite cook. Attentive and highly-skilled staff lead by ... Read More

A

Amelia Clements

- 3 years ago



My son Charles has been at Acre Woods for 1.5years. He is my first child so I didn't really know what to expect from childcare. After talking with friends, Acre ... Read More

G

Gabriela Medrado

- 3 years ago



I absolutely love Acre Woods Gladesville. The Centre is beautiful and spacious, located in a quite & safe neighborhood with plenty of car spaces for pick up and drop off ... Read More

L

Lauren Maher

- 3 years ago



We love Acre Woods Gladesville. The centre has recently been refurbished and has beautiful indoor and outdoor spaces. It has gone from strength to strength under the new ... Read More

Q

QuinkyDink Donuts

- 3 years ago



Highly recommend Acre Woods Gladesville. Warm and friendly staff. I fell in love with the large nature play area that is partly undercover so the children always have fresh air, ... Read More

O

Olivia McGuiness

- 3 years ago



We've had such a great experience to date at acre woods. Staff are fun, attentive and approachable. Frequent feedback and lots of photos posted to the Storypark app. We've always ... Read More

W

Wong Tracy

- 3 years ago



I started my baby in the nursery at 6 months, the ladies were very sympathetic and allowed me to stay as long as I needed. There was a few issues ... Read More

J

Juliana Fujita

- 4 years ago



My daughter has attended Acre Woods for more than a year now, and she loves it. The teachers are very welcoming and caring, the centre coordination is excellent and the ... Read More

A

Alexandra Griffith

- 4 years ago



My eldest has been at Acre Woods for 2 years and my youngest for nearly a year. We are so happy with the care provided, they have amazing indoor and ... Read More

E

Eastoftheequater _

- 4 years ago



My son has been attending this centre for nearly 3 years now and loves it here, especially the huge covered play area. The staff are also great and attentive. This ... Read More

S

Sharah Ali

- 4 years ago



Excellent outdoor space amazing indoor learning area and well planned activities for children Supporting cooperative staff

H

Hugo D

- 4 years ago



I had my son there 3 yrs until he started kindy and now have my just started my daughter there as well. This place is great, the outdoor play area ... Read More

C

Cluey

- 5 years ago



Amazing COVERED outdoor space. Loving Staff. Happy Kids, what more could you want

L

Liz Assadourian

- 6 years ago



This is such a wonderful daycare! The team are incredibly caring and knowledgable. I have two sons who have attended Acrewoods for over two years and sending them to such ... Read More

T

Toni Leonard

- 6 years ago



J

Joanne Lee

- 4 years ago


Begin the Adventure at Guardian
To explore the centre, chat with our team of Educators and learn more about our high-quality curriculum, book a tour now.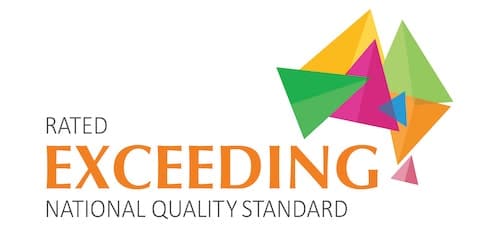 Our centre has been recognised as 'Exceeding' the National Quality Standard. This is the highest rating you can receive from a regulatory authority assessment and we are proud to deliver an exceptional service to the children and families who attend our centre.
Welcome to our centre