Guardian Childcare & Education Lilyfield
(Formerly Billy Kids)
Our centre has been recognised as 'Exceeding' the National Quality Standard. This is the highest rating you can receive from a regulatory authority assessment and we are proud to deliver an exceptional service to the children and families who attend our centre.
Guardian Childcare & Education Lilyfield (formerly Billy Kids), is located a short drive from the Sydney Inner-West suburbs of Leichhardt, Haberfield, Rozelle and Forest Lodge. The Centre is a great option for local families wanting high-quality childcare close to home or on the way to the CBD for work.
Read More
Read more information about the centre
Rhythm of The Day
With endless possibilities, there's never a dull moment at Guardian and no two days are the same. Here's what a day at Guardian might look like. Please note, this will vary depending on centre opening hours.
From 7:30am

Handover time with children, families and our friendly Educators. There's a chance to share what's important for the day and any news from home.

From 7:30am

Breakfast time where families are welcome to stay and enjoy breakfast with the children.

Morning

An opportunity to play and discover with open-plan play in family groups and multi-age groupings.

Morning

Planned experiences. This is where the Guardian difference comes to life. Alongside our Educators your child's exploration leads to learnings in numeracy, literacy, language, critical thinking, problem solving, leadership, social skills, technology, creative arts and much more.

Morning tea

An opportunity for children to come together for a healthy snack, often they help prepare their food alongside our carers and cook.

Mid-morning

Individually tailored to your child's needs and curiosity the planned experiences continue, this includes both indoor and outdoor programs.

Lunch

Another nutritious meal expertly prepared by our cook. Families are invited to join the children for meals and excursions if they wish.

Afternoon

If your child wants to, or needs to sleep, it's time to rest and recharge. For children who don't need to rest the planned experiences continue, in most cases outdoors.

Afternoon tea

Another chance for the children to come together and re-fuel in small groups. There is also an opportunity to rest or play together and reflect on the day.

Pick-up

As you arrive to pick up your child, there's a chance to speak with our Educators and share news about the day. Our Storypark App also allows you to stay in touch 24/7 wherever you are.

End of day

Your child is encouraged to grab a light snack before they leave the centre. We're mindful of how routines vary, throughout the day if we notice your child looking tired food will be provided.
Helpful Information
Opening Hours
Open 7:30am to 6:30pm
Monday to Friday
Good to Know - What to Bring
What we Provide
Nutritious and tasty morning tea, lunch and afternoon tea
Huggies Nappies, SIDS and KIDS Nappy Wipes
Linen for rest time
What to Bring
Hat and Sunscreen
A Spare Change of Clothing
More about Guardian Lilyfield
Before your child starts at Guardian Lilyfield – formerly Billy Kids – we invite you to come and spend some time with us. This can help to make your child's first day less daunting, particularly if they are new to long daycare or early learning. For extra peace of mind, we have an open–door policy where you can call or drop in at any time of the day to check on your child. 
Your child will run smiling through our doors each morning – and greet you excitedly every afternoon with tales of what they've done that day. Because at Guardian Lilyfield, it's all about fun, play and what they learn along the way 
Our Lilyfield Centre is in a fantastic environment for children to become curious and imaginative learners. Join this beautiful community childcare centre today, and give your child the start they deserve. 
We welcome babies as young as six weeks, and work with families through the age stages until finally preparing our older children for the exciting transition to primary school with our leading Preschool Program. Our Preschool Program is specifically designed and delivered to prepare your child for the exciting transition to primary school – all with the added benefit of long care hours for our families.   
Guardian Lilyfield is rated as Exceeding the National Quality Standard for childcare, and it's not hard to see why. Our Centre Manager Danielle and her wider team have been with the Centre for many years, providing a great sense of stability for our children and families. Our team of dedicated and caring educators will welcome your child in a nurturing environment.
With great resources and amazing indoor and outdoor spaces, your child will have the room to explore and flex their curiosity and creativity. Our playgrounds are designed as a place of wonder and inspiration, and we have three separate spaces to meet the developmental needs for children of all ages. There are veggie patches to care for, a mud kitchen and water pump to ignite the imagination and promote thinking around maths and science. We have quiet spaces to relax and places for active play where children can ride their bikes, climb and run. Our outdoor art room and beautiful deck with al fresco dining provide multiple opportunities for outdoor experiences. 
You'll be kept up to date through our family communication app, StoryPark, and our unique Visible Learning Program gives you a great understanding of your child's learning for the day at pick up. It will give you plenty to talk about with them on the drive home! 
Fun and confidence-boosting local excursions for all ages, including to the always popular Hippo Park! We also offer long care hours, support with the Child Care Subsidy and an on-site chef who prepares fresh and delicious meals each day. And with on-site car and pram parking and a short walk from the light rail station and City West Link overpass, it all adds up to convenience for those busy mornings and afternoons.   
Areas that this Centre services
Guardian Childcare Lilyfield services a number of local areas, including: Annandale, Leichhardt, Glebe, Camperdown, Rozelle and Haberfield.
Reviews from Google  (10)
B

Brendan Murty

- 2 years ago



S

Sophie Michailou

- 2 years ago



Love this daycare Centre. My daughter has been attending for 3 years now and I couldn't be happier. The staff and educators are amazing and attentive to the children's ... Read More

A

Alice Rodgers

- 2 years ago



V

Vanessa Rani

- 2 years ago



Guardian Lilyfield has been my second home and also for my children . I've been here for the last 11 working years and I feel supported by my coworkers as ... Read More

C

Carol-Ann O'Shaughnessy

- 2 years ago



Excellent Education Centre. Danielle the manager, she continually goes above and beyond and has created a wonderful environment for children to learn and grow in.

M

Marian

- 2 years ago



This is an amazing centre where you feel welcomed as soon as you step inside the front door. When I first came into the centre I felt it was very ... Read More

S

santi nilsson

- 3 years ago



We can not recommend Guardian enough. Great educators that really cares about the kids as individuals and as a group. Great playful learning and friendly nurturing environment. Always a smile ... Read More

R

Ryan Alexander

- 3 years ago



R

Rob Anderson

- 5 years ago



B

Bhumi Bhatt

- 6 years ago


Begin the Adventure at Guardian
To explore the centre, chat with our team of Educators and learn more about our high-quality curriculum, book a tour now.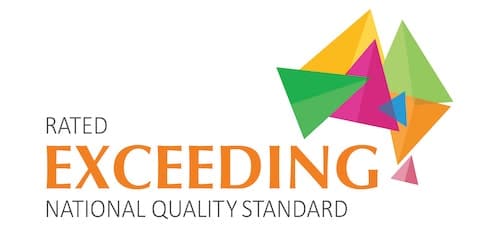 Our centre has been recognised as 'Exceeding' the National Quality Standard. This is the highest rating you can receive from a regulatory authority assessment and we are proud to deliver an exceptional service to the children and families who attend our centre.
Welcome to our centre
Danielle
Centre Manager
"Being a part of moments where children learn, explore and discover new things makes my job worthwhile."