Guardian Childcare & Education Arthur Street
Our centre has been recognised as 'Exceeding' the National Quality Standard. This is the highest rating you can receive from a regulatory authority assessment and we are proud to deliver an exceptional service to the children and families who attend our centre.
Guardian Childcare & Education Arthur Street is rated as exceeding in the National Quality Standard. This childcare Centre is conveniently located for the many families who live or work in and around North Sydney. Although located in a business district, the Centre boasts spacious indoor and outdoor learning environments where children are encouraged to explore and learn.
Read More
Read more information about the centre
Rhythm of The Day
With endless possibilities, there's never a dull moment at Guardian and no two days are the same. Here's what a day at Guardian might look like. Please note, this will vary depending on centre opening hours.
From 7:00am

Handover time with children, families and our friendly Educators. There's a chance to share what's important for the day and any news from home.

From 7:00am

Breakfast time where families are welcome to stay and enjoy breakfast with the children.

Morning

An opportunity to play and discover with open-plan play in family groups and multi-age groupings.

Morning

Planned experiences. This is where the Guardian difference comes to life. Alongside our Educators your child's exploration leads to learnings in numeracy, literacy, language, critical thinking, problem solving, leadership, social skills, technology, creative arts and much more.

Morning tea

An opportunity for children to come together for a healthy snack, often they help prepare their food alongside our carers and cook.

Mid-morning

Individually tailored to your child's needs and curiosity the planned experiences continue, this includes both indoor and outdoor programs.

Lunch

Another nutritious meal expertly prepared by our cook. Families are invited to join the children for meals and excursions if they wish.

Afternoon

If your child wants to, or needs to sleep, it's time to rest and recharge. For children who don't need to rest the planned experiences continue, in most cases outdoors.

Afternoon tea

Another chance for the children to come together and re-fuel in small groups or with siblings. There is also an opportunity to rest or play together and reflect on the day.

Pick-up

As you arrive to pick up your child, there's a chance to speak with our Educators and share news about the day. Our Storypark App also allows you to stay in touch 24/7 wherever you are.

End of day

Your child is encouraged to grab a light snack before they leave the centre. We're mindful of how routines vary, throughout the day if we notice your child looking tired food will be provided.
Helpful Information
Opening Hours
Open 7:00am to 6:00pm
Monday to Friday
Good to Know - What to Bring
What we Provide
Hats
Sunscreen
Five nutritionally balanced meals including: Breakfast, Lunch, Morning and Afternoon tea and a late Snack at the end of the day
Nappies
Bibs
Bedding
Formula - S26
What to Bring
Soft toy or comfort blanket for nap time
Spare change of clothing
Water bottle
Our Educators
Our team of Educators are committed and passionate about ensuring your child will be safe, nurtured and cared for every day. At Guardian, children are encouraged to engage in interest-led play that creates learning and meaningful experiences.
Our Educators seek to optimise diverse learning opportunities and implement the Curriculum as framed by the Early Years Learning Framework.
You and Your Child
All Guardian Centres provide a Centre-to-Family communication platform so families can maintain contact with their children's experiences through photos, stories and learning outcomes.
Our Centres use Storypark and each family is provided with a secure login to access on their computers, mobiles or apps.
Learn More About Our Centre
A Day at Arthur Street ….
At Arthur Street our children, families and Educators begin their day with a family breakfast offered from 7am. Our family breakfasts have become a beautiful daily transition ritual where you are welcome to serve the first meal of the day to your child before you head off to work. There is a great vibe during this time as families often take the time to sit and chat with each other which creates a sense of community within the centre.
A familiar Educator from every age group is always ready to welcome your child as they begin their day. By incorporating playful elements and by beginning to establish a trusting relationship with you and your child, our Educators help your child to overcome any distress that they may experience in the initial days of settling into their new space.
Children are learning from birth. Each day there are a variety of experiences designed and planned to encourage our children to explore and learn. We know that play is powerful. As children engage in various play experiences, they will become confident to explore further and to wonder and learn about their world. Our Educators are close by, to support and promote strong positive dispositions for learning and to extend and deepen the learning that quality play experiences provide.
The open nature of learning environment encourages children to develop socially, play independently and also to collaborate with others as they explore, investigate, wonder and imagine. Children move with purpose across indoor and outdoor spaces, choosing and accessing different materials as they become inventors, investigators, scientist, chefs, artists and designers during their play.
Children's health and wellbeing is our main priority at Arthur Street. Our chef has wonderful relationships with each child and encourages them to have positive associations with food. The four main nutritious meals of the day (breakfast, morning tea, lunch and afternoon tea) are progressive, served straight out of our open kitchen enabling the children to develop positive associations with food and respond to their bodily needs by making independent decisions around what they want to eat.
Our Educators support children as they participate in routines that are smooth, familiar and predictable and meet the needs of each individual child. Routines provide many opportunities for significant learning and for rest and relaxation throughout the day.
We know families want to hear about the learning and fun their children are having with us each day and we share this with you through our wonderful Storypark App. Each child has their own portfolio which is regularly added to by both families and Educators and a reflection with photos is also posted each day, capturing children's learning across the centre.
These photos often provide a wonderful opportunity for families to communicate with their child about their day and are an invitation for families to have input and share ideas with Educators about their child's learning and development by leaving a comment or posting a story or photo of their own. At the end of each day, an Educator is always available to share information about your child's day.
Making the right choice in care and education for your little one is a big decision. Whether you are just starting to look, or are ready to secure a position, we will support you each step of the way.
Reviews from Google  (20)
C

Christine Hogan

- 2 years ago



L

Leslie Kung

- 3 years ago



What is unique about Arthur Street Centre is the concept of open plan. My child had been to 2 previous Centres (including one experience with Guardian in Wynyard) and ... Read More

H

Honoka Walker

- 3 years ago



The entire team at Guardian Childcare & Education Arthur Street are amazing. The dedicated staff of the Centre provided our daughter with a supportive, engaging, fun and caring environment. The ... Read More

L

Lynsey Maloy

- 3 years ago



Guardian Arthur Street is an amazing centre. I was nervous about the process of entering our daughter into care, however Niyati and in particular the Nursery answered all our questions ... Read More

J

Jay Zhuang

- 3 years ago



This childcare center is the top 1 choice in my opinion. At the beginning I would not have any clue of how to put my daughter in Childcare, it is ... Read More

S

Saranya selvaraju

- 3 years ago



I am glad that I met Niyati and was introduced to Guardian , though our daughters duration was very short , we thoroughly enjoyed her stay and surprisingly there ... Read More

J

James Minards

- 3 years ago



Niyati and her team are the best of the best! Our children thrive in the Arthur Street open plan environment and the educators provide premium care and support for our ... Read More

M

Matt Knight

- 3 years ago



What a fantastic centre. Caring, engaging, proactive, fun loving - the list of compliments for this superb team is endless. It is the educators who really make this place so ... Read More

M

Marita Knight

- 3 years ago



Love, love, love this childcare. I couldn't be happier with the way the staff have supported us and our son through the daunting transition of starting childcare for the first ... Read More

N

Neo Kidd

- 3 years ago



Our son started going to Arthur Street when he was 8 months old for 1 day a week, we quickly increased it to 2 days a week and we finally ... Read More

E

Erin Maxwell

- 3 years ago



My son, now 2, started at Guardian ELC Arthur Street at 8 months old and his introduction to childcare could not have been better. The educators that have looked after ... Read More

M

Maria Ramos Carmena

- 4 years ago



We couldn't be happier with the center. The staff is absolutely adorable

A

Amanda Lawson

- 4 years ago



Excellent staff and Director! We were supported every step of the way with our 11 month's transition into the service and long day care for the first time. Niyati, Paula ... Read More

C

Ciara McMullan

- 4 years ago



Lovely little learning centre perfect for kids who like running around and exploring. There's a big indoor sandpit and a smaller outdoor one. The staff are lovely and attentive and ... Read More

S

Sandra

- 4 years ago



Our 2 year old daughter attends this centre and she loves it. What makes Arthur Street so special is the staff and the centre's manager in particular. Infused with genuine ... Read More

A

Amelia

- 4 years ago



We moved to Sydney recently and were looking for casual care for our two little girls (18 months and 4.5 years). The center was happy to confirm their acceptance even ... Read More

B

Brooke Stenchion

- 4 years ago



This Pre-school is hands down the best childcare we have ever been to and had the pleasure of being apart of. It has been life changing in the best way ... Read More

K

Kimberly Perrins

- 4 years ago



My husband and I had a list of criteria for our daughter who was starting daycare for the first time at 14 months old. One of the things we wanted ... Read More

J

Josephine Asher

- 5 years ago



The staff are so lovely and caring, and the centre is very clean and well- maintained and fun. It's a very friendly and vibrant place for the kids.

B

Bonnie Blackburn

- 6 years ago


Begin the Adventure at Guardian
To explore the centre, chat with our team of Educators and learn more about our high-quality curriculum, book a tour now.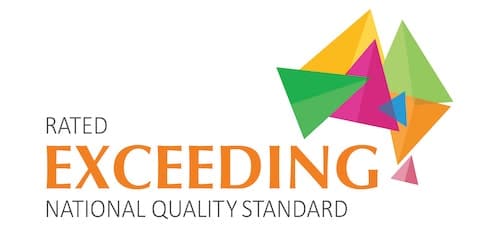 Our centre has been recognised as 'Exceeding' the National Quality Standard. This is the highest rating you can receive from a regulatory authority assessment and we are proud to deliver an exceptional service to the children and families who attend our centre.
Welcome to our centre