Guardian Childcare & Education Box Hill
(Formerly Sweetland Road)
Guardian Childcare & Education Box Hill has won several industry awards, including Best Childcare Centre in 2018, and is rated as exceeding in the National Quality Standard. The Centre boasts a range of indoor and outdoor environments, including herb and vegetable gardens, a spacious deck and natural play structures where children are encouraged to explore and learn.
Read More
Read more information about the centre
Rhythm of The Day
With endless possibilities, there's never a dull moment at Guardian and no two days are the same. Here's what a day at Guardian might look like. Please note, this will vary depending on centre opening hours.
From 7:00am

Handover time with children, families and our friendly Educators. There's a chance to share what's important for the day and any news from home.

From 7:00am

Breakfast time where children can have a nourishing meal before starting their day and families can have breakfast on the go.

Morning

An opportunity to play and discover with open-plan play in family groups and multi-age groupings.

Morning

Planned experiences. This is where the Guardian difference comes to life. Alongside our Educators your child's exploration leads to learnings in numeracy, literacy, language, critical thinking, problem solving, leadership, social skills, technology, creative arts and much more.

Morning tea

An opportunity for children to come together for a healthy snack, often they help prepare their food alongside our carers and cook.

Mid-morning

Individually tailored to your child's needs and curiosity the planned experiences continue, this includes both indoor and outdoor programs.

Lunch

Another nutritious meal expertly prepared by our cook. Families are invited to join the children for meals and excursions if they wish.

Afternoon

If your child wants to, or needs to sleep, it's time to rest and recharge. For children who don't need to rest the planned experiences continue, in most cases outdoors.

Afternoon tea

Another chance for the children to come together and re-fuel in small groups or with siblings. There is also an opportunity to rest or play together and reflect on the day.

Pick-up

As you arrive to pick up your child, there's a chance to speak with our Educators and share news about the day. Our Storypark App also allows you to stay in touch 24/7 wherever you are.

End of day

Your child is encouraged to grab a light snack as they leave the centre. We're mindful of how routines vary, throughout the day if we notice your child looking tired food will be provided.
Helpful Information
Opening Hours
Open 7:00am to 6:30pm
Monday to Friday
Good to Know - What to Bring
What we Provide
Sunscreen
Five nutritionally balanced meals including: Breakfast, Lunch, Morning and Afternoon tea and a late Snack at the end of the day
Nappies
Bibs
Bedding
What to Bring
Hats
Formula and bottles
Soft toy or comfort blanket for nap time
Spare change of clothing
Water bottle
Our Educators
Our team of Educators are committed and passionate about ensuring your child will be safe, nurtured and cared for every day. At Guardian, children are encouraged to engage in interest-led play that creates learning and meaningful experiences.
Our Educators seek to optimise diverse learning opportunities and implement the Curriculum as framed by the Early Years Learning Framework.
You and Your Child
All Guardian Centres provide a Centre-to-Family communication platform so families can maintain contact with their children's experiences through photos, stories and learning outcomes.
Our Centres use Storypark and each family is provided with a secure login to access on their computers, mobiles or apps.
Learn More About Our Centre
Have you been looking at Box Hill child care centres, trying to find the right guardians for your children? Talk to us at Guardian Child Care in Box Hill and find out how we create the most innovative learning environment for children. Our staff working closely with our fammilies to ensure that they are providing exactly what each child needs.
With some of the most highly skilled and qualified staff in Melbourne childcare, Guardian may be the place you've been looking for.
Before you make your decision, consider taking a tour at the Guardian child care in Box Hill and discover how we're different.
Reviews  (14)
C

Craig Drayton

- 1 year ago



A

Alice Tanoemarga

- 2 years ago



My daughter has been attending the centre since she was almost 11 months old until now (5.5 yo). I have actually enrolled her in a different daycare before I found ... Read More

E

Elvina Ingrid

- 2 years ago



As a first time mum, putting your child in a childcare is one of the hardest thing to do! After a lot of research, consideration and discussions, I decided to ... Read More

R

Rachelle Anne Aya-ay

- 2 years ago



S

Samantha Ignalaga Huang

- 2 years ago



Both my kids have been cared for by the amazing staff at Guardian Box Hill. My son started at the centre when we moved to the area when he was ... Read More

J

Justyna Appleby

- 2 years ago



This was the 3rd child care place we looked at for our son 2 years ago and as soon as we were welcomed at the door and stepped into the ... Read More

M

Melissa Stokes

- 2 years ago



We have been sending our kids to Guardian Childcare on Sweetland Road since 2015 (when my first son was 1 year old). I must say their expertise and professionalism in ... Read More

J

Jocelyn Paras

- 2 years ago



I have had my daughter attend Guardian since she was 9 months (currently 17 months). She attended Guardian three days a week at the start and two days at another ... Read More

V

Victoria Emerson

- 3 years ago



My son attends Sweetland road and we are so happy with the centre. The staff are caring, nurturing and experienced. Management are friendly and approachable. Staff really get to know ... Read More

C

Crystal Ccc

- 3 years ago



My daughter has been in this Childcare for almost two years now. She got lots of friends there now and she feels comfortable there. The educators often give me feedback ... Read More

Z

ZI YANG

- 3 years ago



My child attends to baby room at Sweetland Rd, and the staffs are so nice. I can see my child learned a lot of things! Also, their food always looks ... Read More

G

Ginger Shen

- 3 years ago



Very nice staff, warm place like home, absolutely the lovely place for children to stay, love it!

M

Mia Wan

- 3 years ago



C

Carol Walker

- 7 years ago


Begin the Adventure at Guardian
To explore the centre, chat with our team of Educators and learn more about our high-quality curriculum, book a tour now.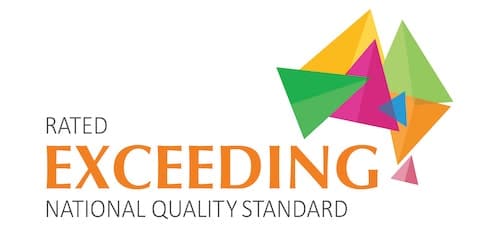 Our centre has been recognised as 'Exceeding' the National Quality Standard. This is the highest rating you can receive from a regulatory authority assessment and we are proud to deliver an exceptional service to the children and families who attend our centre.
Welcome to our centre
Veronica
Centre Manager
"It's a great feeling to meet new families and get to know children from different cultural backgrounds."